Mix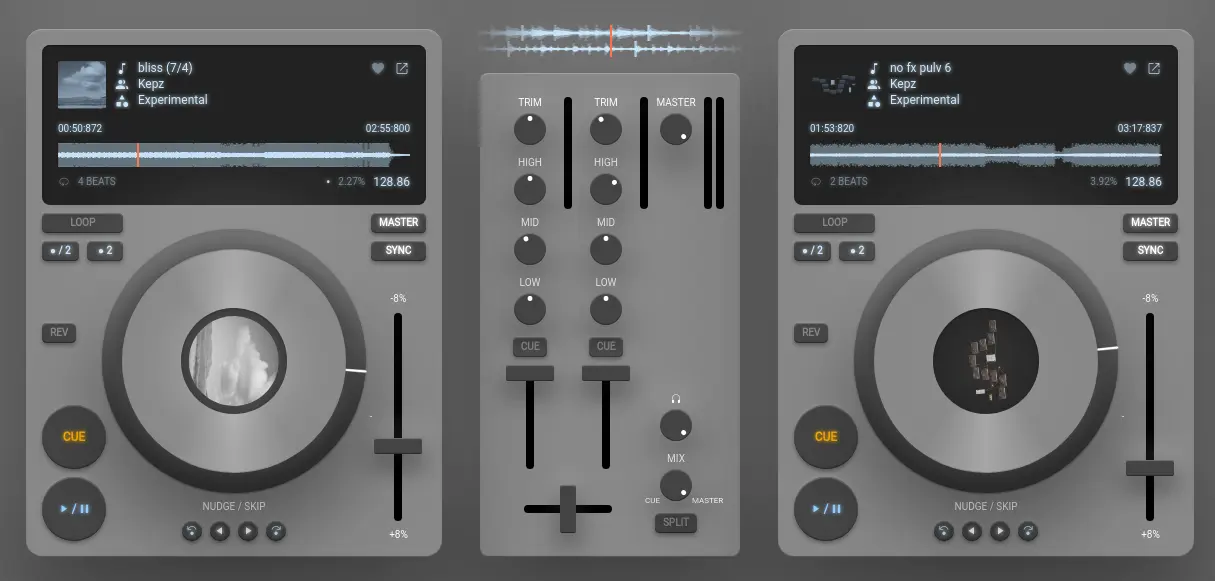 Mix is an online DJ-tool with access to the audiotool music library. You can use it right now for free! mix.audiotool.com.
Player Display
Track info

Displays authors, track name, genre, snapshot and cover if available

Allows liking the track from the app (if logged in)

This section is also a link to the track profile on the website

Waveform

Clickable waveform representing the loaded track
Bpm

Displays the current bpm of the track (with speed adjustment applied)

Dot next to the bpm number shows whether the player is the master player

Loop Info

Displays whether loop mode is on and how many bars long the loop is
Player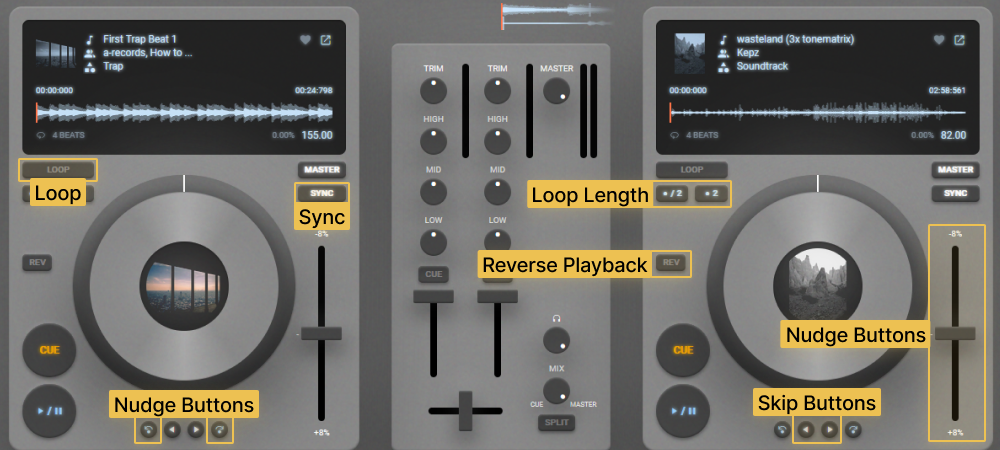 Sync

Syncs current track to the master player (if that player has a track)

When the player is paused, but the master player is playing, sync will also start the current player

Loop

Loop button toggles loop on/off

Loops are quantised

*2, /2 buttons multiply or divide the loop by two while keeping it in time

Nudge

Nudge buttons let you slightly and temporarily speed up or slow down the player to aid with beat matching

Skip beat

Skip beat buttons allow you to skip back or forward by exactly a length of a beat

Reverse Playback

This allows playing the track in reverse

Change pitch

Changes the pitch of a track to allow for beat matching it with other tracks
Tracklist browser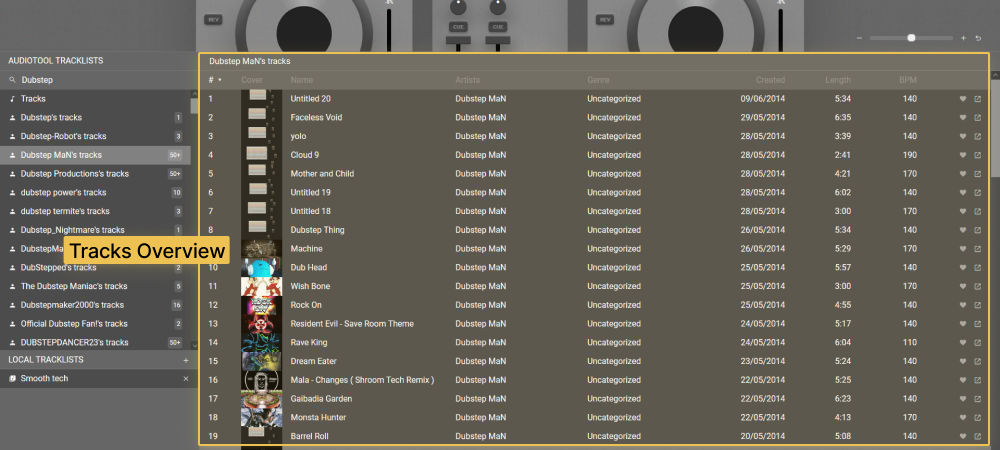 A place to look at audiotool tracklists or for managing local tracklists

Tracklists are displayed in lists on the left

Tracks of a tracklist are displayed in the large area of the browser once a tracklist is selected

Tracks can be dragged and dropped into local tracklists from audiotool tracklists or other local tracklists

Tracks can be dragged and dropped into the players

Tracks have a 'like' button

Tracks can be sorted by different properties within the playlist by clicking on column headers
Audiotool Tracklists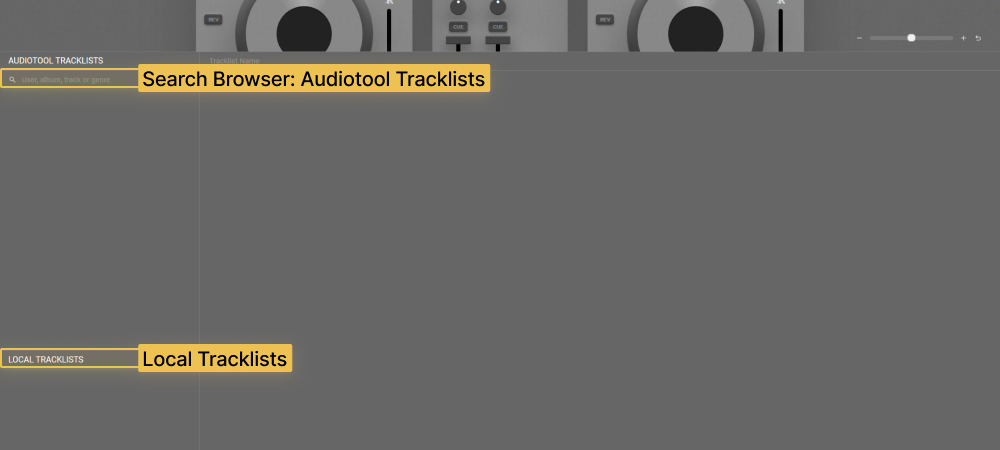 Search for tracklists on audiotool. A tracklist can be: user profile, album, latest in genre or collection of tracks that match the search result.
Local Tracklists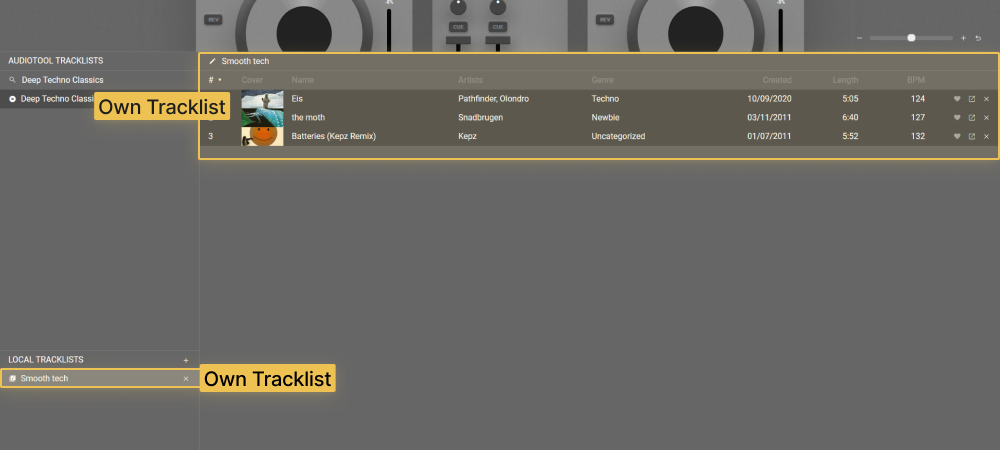 Create or delete local tracklists (saved in site's local storage and not in the cloud)

Track order can be changed

Tracks can be added or deleted

Tracklist name is editable

Tracks can be reordered (when sorted by order)
Authentication
Authentication redirects to audiotool.com where an Audiotool account can be logged into or created
Broadcast
Start or stop a broadcast

Get a shareable link to a personal radio page when the broadcast is active